Covid 19, Get Your Tech Partner - A Safe Place In An Unsafe World!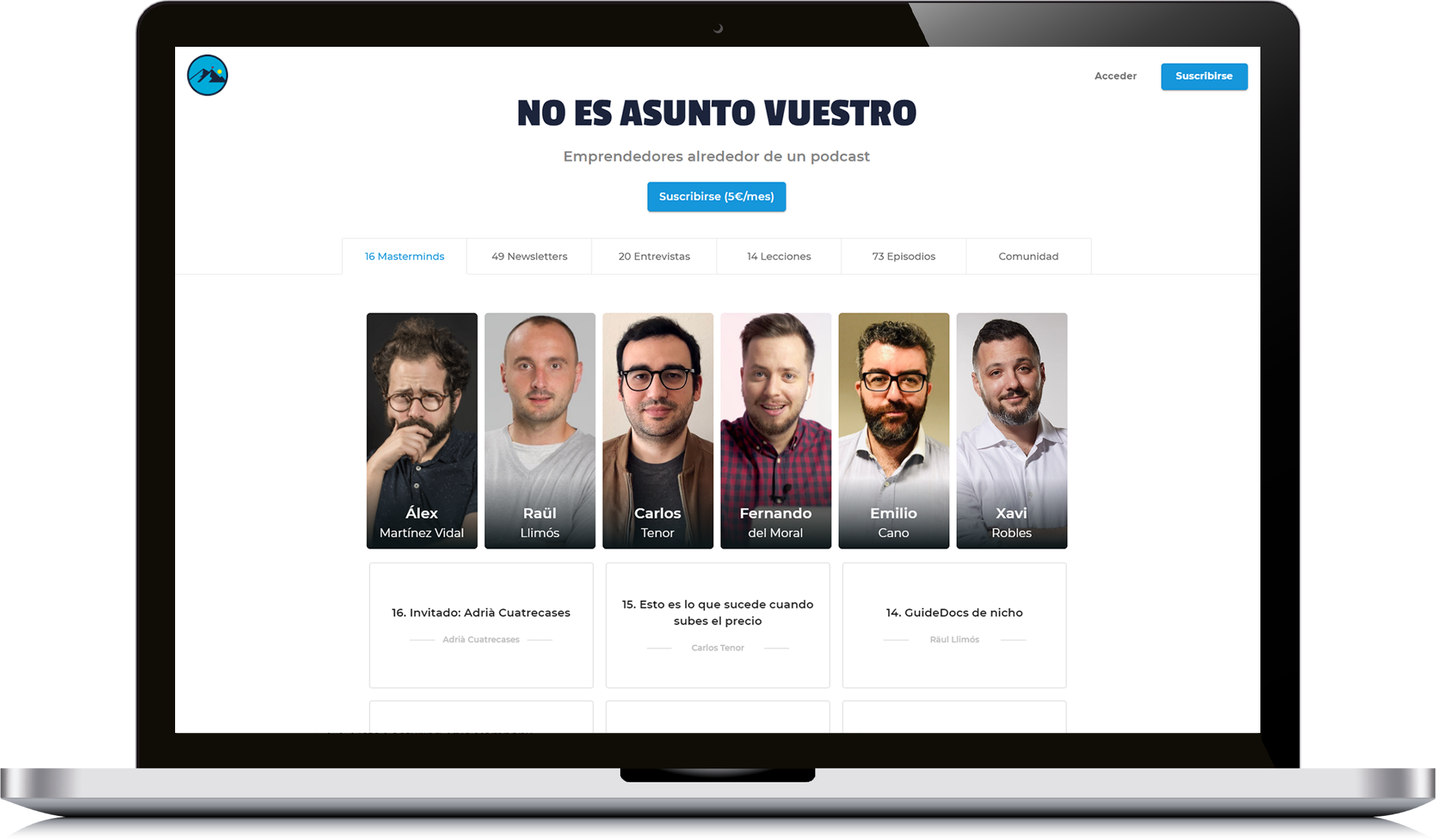 No As Asunto Vuestro
Overview
No es asunto vuestro was launched as a public podcast to share the beautiful and troublesome experience of building a startup with its day-to-day challenges. In order to share this experience in a much more personalized way, a premium podcast was the way to go.
That's where Nividata comes in. We developed No es asunto vuestro Premium with 3 different monthly subscription plans allowing subscribers to get exclusive information on building a startup from scratch and connect directly with the entrepreneurs.
Today, No es asunto vuestro has built a magnificent audience and caters their premium subscribers with lessons/tutorials, interviews and newsletters including personal experience along with some wisdom of over 6 Masterminds.
No Es Asunto Vuestro
Links
Web: https://www.noesasuntovuestro.com
No Es Asunto Vuestro
Core Features
Website for the No es asunto vuestro podcast.
Upload public podcast episodes.
Upload premium podcast's episodes - exclusive to subscribers.
Feature to upload a trailer for each premium podcast episode.
Types of podcast episodes:

Masterminds.
Interviews.
Lessons.
Public episodes.

Scheduling of podcast episodes.
3 different monthly subscription plans with auto-renewal.
Allow subscribers to upgrade/downgrade/cancel their subscription plan anytime.
Compatible with leading Podcast apps such as Apple Podcasts, Overcast, Pocket Casts, Google Podcasts and many more.
Automated publishing of newsletters on the website.
Private Telegram & Slack community - exclusive to premium subscribers.
Allow subscribers to add and vote on new ideas/features for the website.
A community map to show subscribers' info based on their location.
A community directory with a short bio of the subscribers.
100% mobile-ready.
Automated Tax/VAT calculation exported daily to Google Sheets.
No Es Asunto Vuestro
Technology we use
CMS - WordPress
PHP 7.4 with MySQL
HTML
CSS
JS
jQuery